I love movies, all sorts of movies. I used to buy on average around 2-3 DVD's a week. I knew right from the dawning days of DVD that it was going to be popular with collector's. I kept up-to-date with releases for my favorite movies around the world so that I could own the best version and my collection grew and grew. As I got more and more interested in foreign and independant cinema I expanded my collection to include limited editions. Now with Blu-ray I am torn, I have some very cool editions of movies on DVD that I would love on BD, but giving up the nice packaging for awful blu-ray cases isn't an option, but I can't afford the double dip....oh well, if this is all I have to worry about in life then I guess I shouldn't complain!
Anyhow, I thought over the next few days I would share some of my favorite limited Edition DVD sets :)
House of Flying Daggers - China
Contents:


Deluxe Box Packaging
Number Limited Edition:
2 DVDs



1 CD Soundtrack
Making of Photo Book
Bamboo Pen
Postcards
Bookmarks
Contents:


Special Packaging
1 DVD
1 Pocket Watch
Trick Playing Cards
Misc. Novelty Item
Contents:


Ghost World DVD
CD Single for Jaan Pehchaan Ho by Mohammed Rafi
4 Badges
2 Cloth Dolls
1 Sticker Sheet
1 Screenplay with Storyboards and artwork (Japanese text)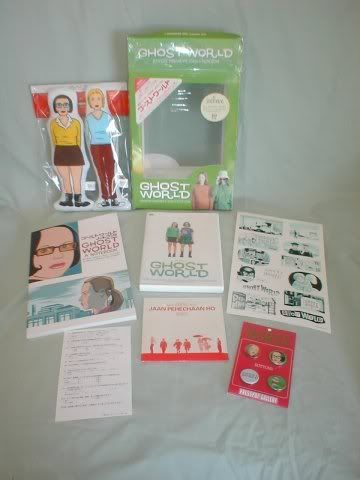 I shall post more over the next week or so....