Keeping with the anime theme, I thought today I would share a few of the series I have chosen to collect....


Noir - Australia
As previously noted on the blog, Noir started my whole fascination with anime. The idea of the 2 female assassins trying to uncover the past had me from the first 10 minutes of the pilot episode.
The Australian release was nothing fancy...although it does have a gimmicky easter egg hunt. The booklet for each DVD has a hidden message (you need special glasses that weren't provided until the 7th volume) in order to read them. Once you have deciphered the code, follow the instructions and you will be presented with a series of easter eggs. I also bought the 3 soundtrack CD's and a neat set of playing cards featuring art work from the series...


Contents:
Volumes 1 -7
3 OST CD's
Art Work Playing Cards

Tsukuyomi (Moon Phase) - First Press Editions - Japan
I became interested in Tsukuyomi because of director Akiyuki Shinbo, I loved his OVA
Le Portrait De Petit Cossette
. When I started watching this series I had very high hopes that it would be a continuation....that was at least, until the prologue finished and the opening credits started....I was laughing so hard it hurt...suffice to say Hazuki-chan won my heart (despite being the brat she is) and the series earned its place in my collection not once...but twice..
Box 1 Contents:
1 DVD
1 Hazuki-chan figure
2 Postcards

Volume 2 Contents:
1 DVD
1 Postcard Album

Box 2 Contents
1 DVD
1 Haijii Plush toy

Moon Phase Box Set - America
Contents:
Volume 1 DVD
Postcard Album
4 Postcards
Booklet
Box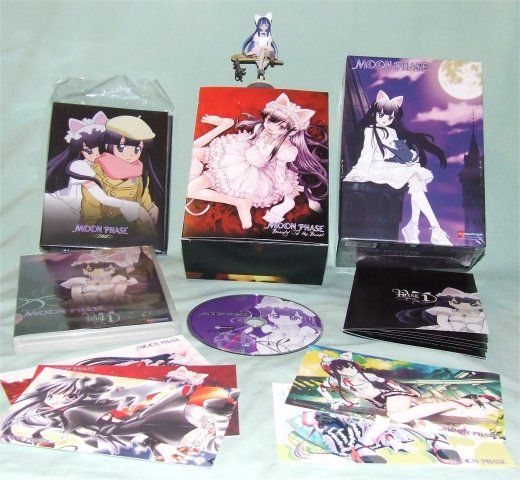 Uta~Kata - Summer Memory Box Sets - Japan
I had finished watching
Kiddy Grade
and was awaiting news of the next series from Keiji Gotoh, when Uta~kata was announced. I liked that is had a simple twist on the whole "Magical Girl" story line and I am still sad that it has not been licensed in any English language version to this date...
Contents:


Box 1


2 DVDs
1 Continuity Book (180 pages Japanese Text)
1 Production Book (55 Pages Japanese Text)
1 Character Bed Sheet
5 Postcards
1 Mobile Mate



Box 2


2 DVDs
1 Continuity Book (170 pages Japanese Text)
1 Production Book (67 Pages Japanese Text)
1 Mini Novel ( Japanese Text)
5 Postcards
1 Mobile Mate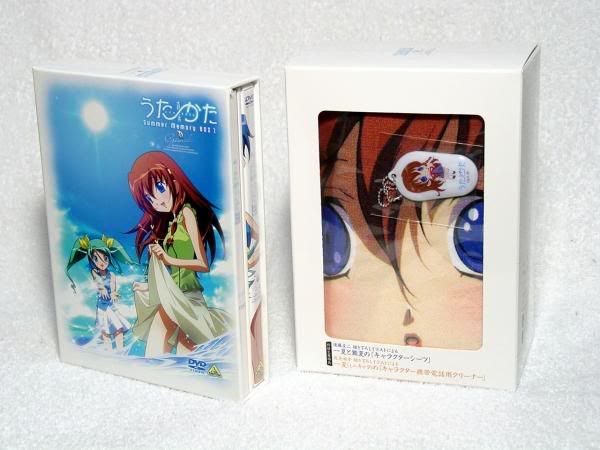 and a movie for good luck :)

Spirited Away - Australia
This was my second introduction to Studio Ghibli and more specifically Hayao Miyazaki, my first being
Princess Mononoke
, and whilst I have since become a fan of his more light hearted affairs such as
My Neighbour Totoro
and
Kiki's Delivery Service
I still return to Spirited Away and respect it for the achievement in animation it provides.
Contents:
Limited Edition Packaging
2 DVDs