Well I got a bit carried away on the long weekend and thus no updates ensued....
Anyway, I thought today I would show some of my Korean Limited Editions, this has mainly come about thanks to
The Uninvited
, which started in theaters over in the U.S and which happens to be a remake of one of my favorite Korean horror movies... take a look at the trailer below...
So the original film is called "
A Tale of Two Sisters
", there have been a few releases around, but the first 1500 of the 2 disc Korean Edition came in a nice digipak with a film cell.
A Tale of Two Sisters - Korea
Contents:

Digipack
2 DVD's



Film Cell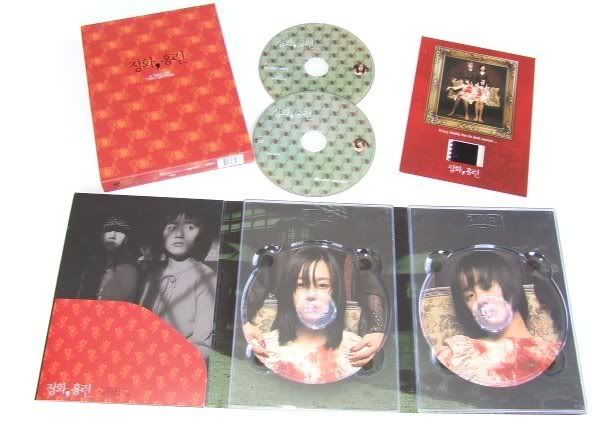 I also have a soft spot for Kim-Ki Duk, who churns out almost 2 films a year... below are a my 2 favorites...
Samaria (Samaritan Girl) - Korea
Contents:
Numbered Limited Edition: 04919 of 10,000
1 DVD
1 CD Soundtrack
1 Booklet


3-Iron (Bin-jip) - Korea
Contents:
Special Packaging
2 DVDs

I also invested a little in the "Girl's High School Horror" series, whilst I could not find a limited edition for
Whispering Corridors
...
Memento Mori
and
Voice
both managed to get the LE treatment. I did have Wishing Stairs, but it was the least worthy of the series so I sold it...ce la vie...
Memento Mori - Korea
Contents:
Special Box Packaging
5 DVDs


1 CD Soundtrack
1 Diary & Photo Book - 110 Pages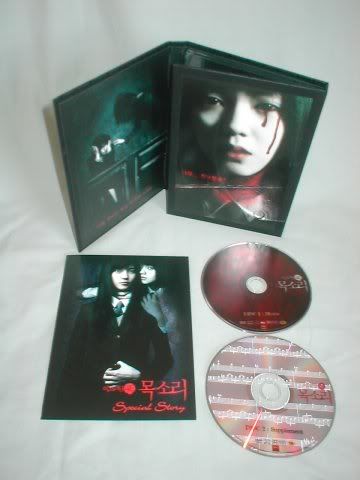 Whilst I could add quite a few more, I think I shall save them for a horror movie post a little later down the line...
I saw
Changeling
over the weekend so expect a review of that some time in the next days or so....