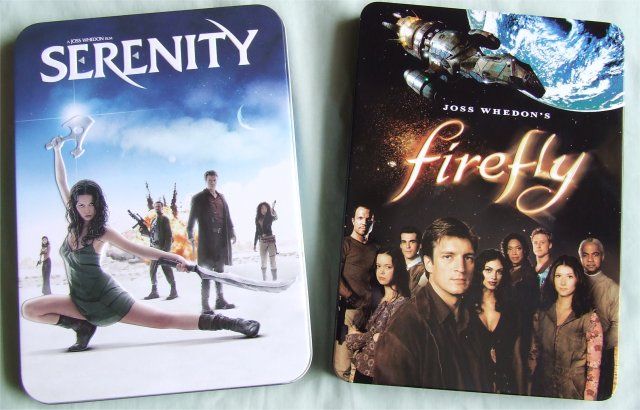 Hurray for Firefly & Serenity on Blu-ray disc....I sold my DVD's awhile back in anticipation of these releases, thankfully I bought the EzyDVD tins (see image above) and kept those to put my BD's in :D
I have started watching Dollhouse, but not sure what to make of it at this stage....it is on FOX too so I don't hold out much hope of it getting past the first season. I was glad to see that it deals with the issue of Anamnesis, always a bonus for me and something sure to keep me watching for a little while although I have only seen the first 2 episodes. I will give it a few more before I make the final cut decision whether to keep tuning in or not.
It is quite sad how little TV I am actually watching at the moment.... no new series has really grabbed me and encouraged me to continue watching and those that had have been canceled and all traces gone.....Pushing Daisies is my main pet peeve...
So currently only Chuck and The Mentalist and even those aren't religious.
oh well.